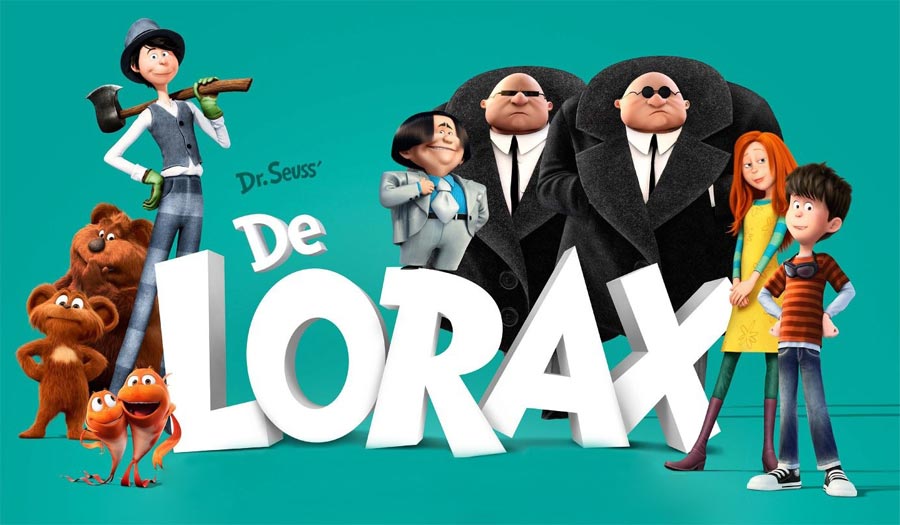 I watched The Lorax on Monday! I was beginning to get bored of the cookie-cutter type of animation films, but then the movie started out with a song number, which was quite... unexpected?
Throughout the movie they kept bursting into song for no reason, which was weird.. but amusing nonetheless.

The story goes like this:
An animated adaptation of the Dr. Seuss 1971's children's book of the same name, follows the story of a boy named Ted as he tries to win the affections of the girl of his dreams by finding her a real tree. He then stumbles upon a miniature creature known as the Lorax, who tells him that his home, the Truffula Forest, is in danger due to the machinations of Mr. O'Hare, the mayor and greedy proprietor of a bottled oxygen company.
Huh?! After watching the trailer a few times I'm still confused as to what it was all about. I was only interested in this..
Taylor swift voicing Audrey (and Zac Efron voicing Ted)! Initially I thought it was a weird combination but not so much after watching
this
. Super adorable!
Brought my youngest brother to watch his first movie! To say that he was excited would be an understatement. Although the pictures prove otherwise haha.
All in all, the movie was refreshing and perfect for a light-hearted, enjoyable evening. It lacked some emotional depth through (think despicable me and UP), but I guess it made up with some attempted message about the environment. Anyhow, it's adapted from a children's book so I wouldn't be too fussy.
As with Despicable Me, the characters (mostly the cute ones) are so endearing and life-like, you just want to hug them and squish them so tight and pinch their cheeks!!
The fishes walk on the their tails! Imagine that!
I

especially

like the part where everywhere was raining with

marshmallows

- the scene was so colourful and soft and fluffy I wish I could be there~~
On the other hand, I cannot for the life of me figure out what role the Lorax plays! He just seems to know some disappearing trick lol. Maybe they left out something from the book.
The 3D effect of this movie wasn't particularly exciting, just a nice cherry on top kind of thing. (sidetrack) The 3D effect of the despicable me 2 trailer, on the other hand, was (Y)(Y)(Y)! The whole party pooper came off the screen!
POTATO~~~
Lol excuse me for the slight biasness.
Catch

The Lorax

in cinemas now!
Labels: Advertorial