I never really had much fate with Art exhibitions in general- two years ago I missed 3 occasions to go to the Singapore Biennale, had a very unenjoyable experience at SAM (forgot why I was so upset though), and I nearly thought of skipping today's excursion because I was given last-minute notice that I had to go alone.
But anyways, I really enjoy appreciating art, and I'm glad I went today to the Trans-Cool Tokyo exhibition at SAM!
There are some of the art pieces I liked:
Pixcell Deer #17, Kohei Nawa, 2008-2009, mixed media
This artist buys off taxidermic (google it) animals from ebay and covers it with crystal balls. We don't actually know whether the animal inside was actually real, and thus this artwork reminds us how we ourselves construct a (protective) layer over ourselves, so no one really know what's real or not.
Well at least that's my interpretation. It's a very pretty sculpture.
Disco Booth, Ryoji Ikeda (2006-2009)
Instructions:
Step into this disco booth for one,
And experience dancing to your heart's content.
"A converted telephone booth serves as one-man disco for those self- conscious of their body in public".
The person feels like being in his/her own world inside the booth , dancing to his heart's desire (disco ball!), when actually everyone outside can see what is going on.
This really, really reminds me of how blogging works, especially the part about not know who's looking at you. And it's what is intended as well, exploring ideas of identity, relationships to community and false anonymity of technology/internet.
Flower, Takashi Murakami, 2006, silkscreen and platinum foil
Takashi Murakami founded this postmodern art movement called Superflat. It's somehow inspired by how traditional artworks try to make pictures look 3d-like, and it seems like we're self-deceiving because canvas is, well, 2d, at the end of the day.
His artworks reminds me the animation film Summer Wars, which I shared sometime ago,but oddly he wasn't part of the production.
By the way the flowers look slightly sadistic to me actually.
Sayon, Yoshitomo Nara, 2006, Acrylic on canvas
"In Yoshitomo Nara's cute little girls painted in clean direct lines and pale colors that suggest an innocent appearance, the over-emphasis on the large slanting of eyes and the eye cornered balls appear mischievous and speak of defiance, rebellion and loneliness."
(x)
I feel like I can relate to this painting, its hostility, timidness to some extent.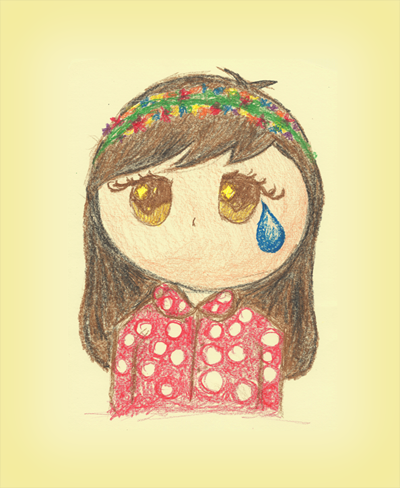 Esuza, JX Yip, 2011, Crayon on construction paper, edited digitally
She dresses up nicely, curls her lashes, tries to look pretty, although her clothes are outdated and her face is lopsided. Notice the sparkle in her eyes? She has so much on her mind, but never will she be able to voice them out because she doesn't have a mouth (hence the tear).
Haha I drew it if you haven't already realised. We were supposed to draw something inspired by the exhibition, and my drawing is based on Sayon, where the personality inside the art piece is supposed to speak (pun unintended) to the audience .
I totally should have added in my signature right! -grins-
Okay it felt slightly theraputical, I think I'm going to sketch more soon.