Okay okay so monday was a pretty crazy day, from twitter: took my last chinese paper EVER, rushed back & forth from home, chilled in e range, presented for op, megamind gala premiere!
Nice :3 When I was watching the movie it was like, 12 hours earlier I was doing my A level!
Megamind!
Before I stepped into the cinema hall, I had no clue what it was about (unlike despicable me which I went to do research).
Other than it about some gigantic blue headed thing.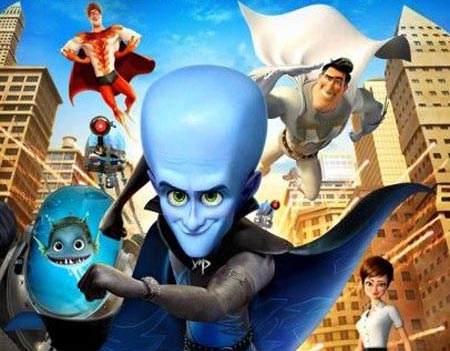 After super-villain Megamind (Ferrell) kills his good-guy nemesis, Metro Man (Pitt), he becomes bored since there is no one left to fight. He creates a new foe, Titan (Hill), who, instead of using his powers for good, sets out to destroy the world, positioning Megamind to save the day for the first time in his life.
(SHIT 5 MINS LEFT)
Okay so, here are some photos!
Ta-da my work of art
I took a picture with the legendary megamind! Ok lame. And I look retarded because we were supposed to dress up and I just brought a bat mask and some black clothes.
3D glasses (!) and the guest of the evening, in a rather unglam pose hehe :D
The 3D animation in the movie was rather good! And I like how the movie has a fresh perspective to it.
Like typical storylines go like- crisis, hero has difficulty solving crisis, hero triumphs over bad, everyone is saved, the end.
I like how this movie went beyond to talk about what happens AFTER the war between good and evil, and where EVIL actually won!
Since young, I always wonder why the villans like mojojojo and stuff want to rule over/destroy the world, like whaaaaat- won't you like just lock people up then how is the world going to work?
So anyway, then movie brings in quite a new perspective, like humanising the evil dude.
Andandand the humour in this movie (especially of megamind) is great!
Aww evil guys need the love too~ haha!
Good watch, good watch(:
P.S. THE STARTING IS NICE I LIKED IT. You know for dreamworks they always have this boy sitting on the moon and fishing? Ohmygod really amazing how they make such a simple thing so cool, the 3D effect is fantabulous!
Labels: Advertorial