When I first saw the publicity posters at the cathay for the movie 'Despicable me', I remember thinking what in the world it was about, a bunch of ugly monsters with this man with a weird body proportion..
And honestly it didn't really captivate me a lot, because I am a fan of cutesy and pretty stuff. However, I saw the trailer on teevee, and the IT'S SO FLUFFY I'M GONNA DIE just really got into me :D
Check out 2:20!
Yea, so anyway, I got premiere tickets to the 3D movie, thanks to omy.sg! Awesome max :D Brought Eileen along, and it's the first time both of us are watching a proper 3D movie in a cinema(: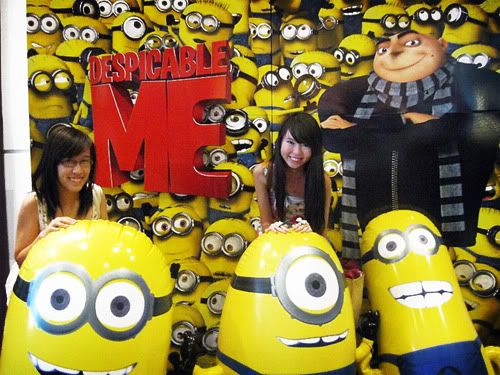 With the mascots!
I was watching the other trailers online, and I realised that the eldest sister (Margo) is actually from iCarly! And check out this
video
from nigahiga, lol funny, my brothers kept rewatching it-.-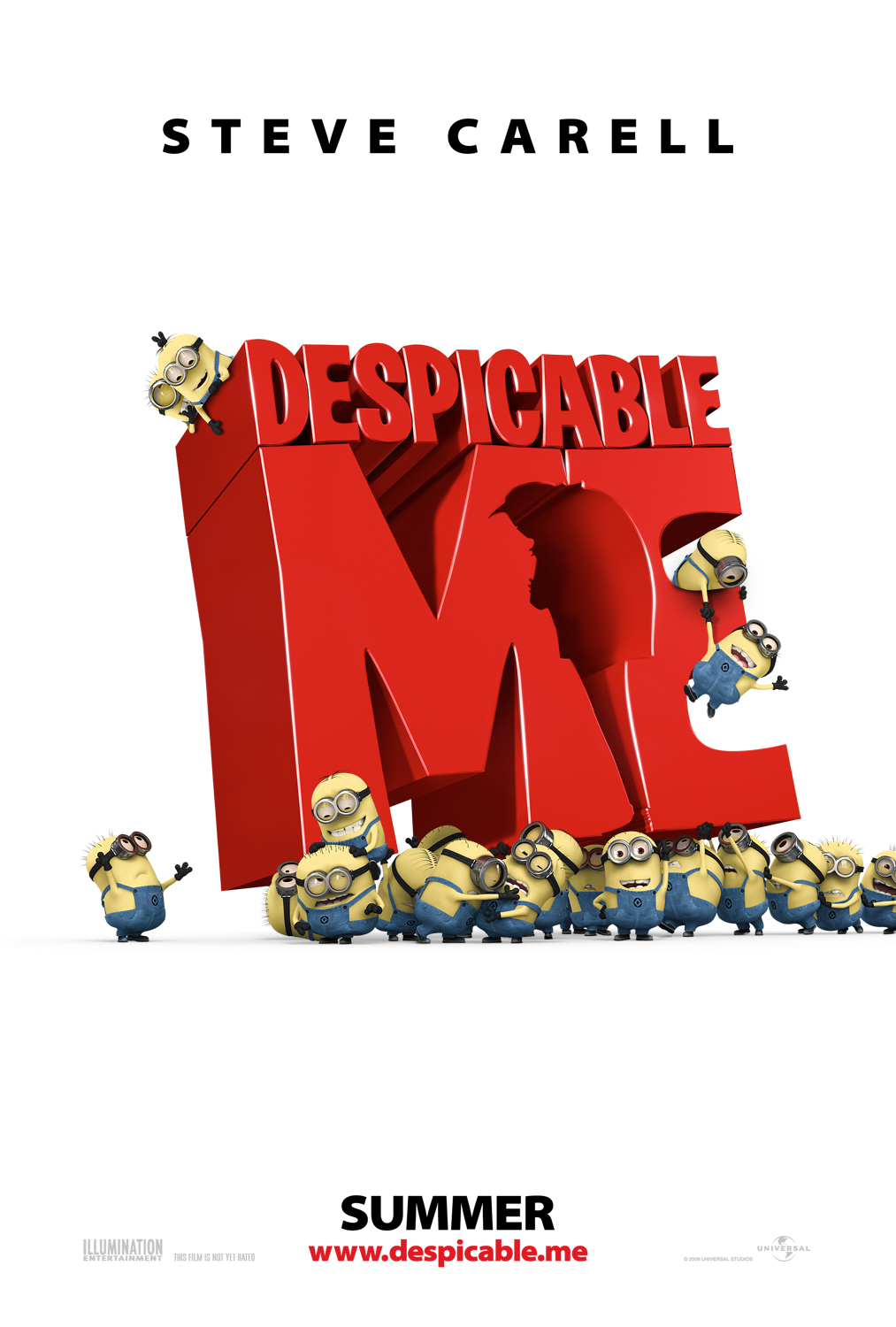 In a happy suburban neighborhood surrounded by white picket fences with flowering rose bushes, sits a black house with a dead lawn. Unbeknownst to the neighbors, hidden beneath this home is a vast secret hideout. Surrounded by a small army of minions, we discover Gru (voiced by Steve Carell), planning the biggest heist in the history of the world. He is going to steal the moon. (Yes, the moon!) Gru delights in all things wicked. Armed with his arsenal of shrink rays, freeze rays, and battle-ready vehicles for land and air, he vanquishes all who stand in his way. Until the day he encounters the immense will of three little orphaned girls who look at him and see something that no one else has ever seen: a potential Dad. The world's greatest villain has just met his greatest challenge: three little girls named Margo, Edith and Agnes.
The movie was not bad, it was mostly the agnes and little minions part that got everyone squeeing, as well as the off-character jokes that the mostly sombre Gru made that made everyone laugh.
I was very amused by the louder-than-normal sound effects, like the people like really
laughed
at the funny parts.. weird haha. It sounded like those recorded laughing in tv comedies!
SPOILERS AHEAD.
Oh the 3D effects really made the entire movie so much cooler- there was a scene on a roller coaster ride, and you really could FEEL like you were on the ride because of the 3D thing! Like woah, could feel my heart falling, y'know the feeling when you're falling down a 90 degrees slope?
And it's so stupid how nowadays stuff make me tear so easily-.- There were those little puppet storybooks we used to have as kids, omg love them so much haha. Then Gru made a self titled one, just writing about himself with the little girls, then it was like 'hey that looks like me!' 'No it's a little kitty not a girl!', with him and his act-coolness.
It was just this small emotional part, thanks goodness for the 3D glasses haha!
And to end off, because I am too free, and bored at that,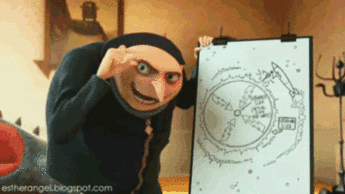 Gru: I shrink the moon, I grab the moon, I sit on the toilet bowl... what?
Catch DESPICABLE ME in cinemas from July 8th!
Labels: Advertorial