Saturday
- Bare your sole '10 volunteering
It was a fun experience(:
This was the game booth we were in charge of. It's called pitchburst- it's like you'll throw a tennis ball at the red target, and when it's hit this pulley thing will poke the water balloon and spash the person sitting on the chair.
Only that it was quite fail because of so many technical errors, haha.
Reached the place before the sun rose- before anyone else. I think I have thing about solo-ing, will tend to do the most ridiculous things.. so I got my tshirt to change, when the others were here:
"Jing why does your shirt look so weird, did you wear it the wrong side?"




"OMG"
Haha you know the kind of feeling when you feel like the whole world's looking at you? Felt like hiding into a hole la lol so embarrassing!!
So anyway, the rest of the day went great, got to know some J2s, and OMG. THE. BOUNCY. CASTLE. SO. FUN! :D
Relived some childhood moments there:D Jump jump jump! The kids there were so cute- and also terribly hyper. They will just charge at you as if you were part of the castle structure, haha.
Oh yes and why I feel a special link with this event:
Went to some food place down ecp to get some supper, and I did the most ridiculous thing ever: walking there barefooted -.- Didn't bother to get my shoes from the beach, and forgot the bring slippers.

Felt like some third-world citizen, walking on prickly surfaces and having the continuous fear of stepping on something sharp.. people should totally hold one of those awareness events like hunger camp and all- travel barefooted around Singapore for a day! Haha I have such brilliant ideas, no?





-estherangel.blogspot.com February 27, 2010
Which pretty much is what Bare your sole'10 is all about! x) Walking around ecp for 5km with no shoes.
Yup, at the end of the event we were all drained.. walked all the way to yunita's house to be the postman of the day (still carrying 2 big pails omg nightmare)- deliver her present! Loved the designs, they were all so intricate and oh-so-adorable. Hope she liked it ;x
I was so beat, slept on the bus and had the best sleep ever.
-
Sunday


1) Bought my brother to a birthday party at eXplorer kids, which was like HEAVEN to the little kids there- again, crazy 7 year olds running about in all sorts of directions like really high speed. Manz, why didn't they have these kind of stuff when I was a kid?
Those bubble ball pools, bumper cars, an oversized hamster course (haha with the tunnels and everything), rockclimbing wall, omg even a mini high-element course! (haha ilc days)
See, see!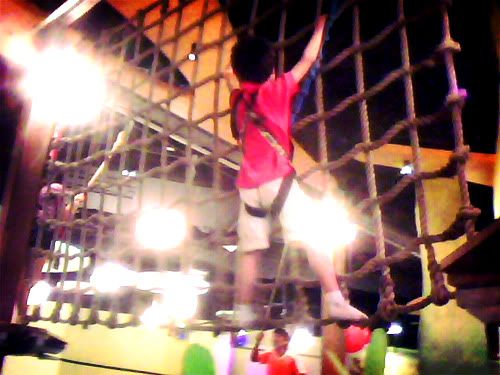 (terrible image quality- had to photoshop it to make it look artistic haha)
So jealous of today's kids! How can you even have a birthday party there!
Then hannah came over to sleepover, again.. haha was quite fail this time though. So tired from running around with my brother the entire afternoon. Attempt to do physics project- fail, I fell asleep halfway through reading an article ;/
-
And today- watched Confessions of a Shopaholic, nice movie!
Pretty much zero studying again. ZOMG 20 MORE DAYS.