Yesterday was a nice day.
Donned with red and white, from top to bottom. Haha, red hairband, red/white bag, face tattoo, I think I looked very patriotic! :D National day ceremony itself wasn't that spectacular, and the releasing of red and white balloons into the air were HORRIBLE. Pollution! D: Me no like. Well it would make a really nice photo to take though.
Apparently eileen found it very apt for the movie we were going to watch later: UP!
Spent time in class doing a darn AQ which I couldn't finish. Gobbled 2 packs of chipsters.
And then there came the impromptu class (or half-class) outing as always- which made me quite annoyed. Well or disappointed, seeing how my beloved mum made yummy stuff like creampuffs and sushi- which I finished by myself at home, hah.
And because of the fact that people do not seem to appreciate, either that or they just love people being at their feet. So annoyed.
Ate the most disgusting noodle ever at roxy's, with the jiucai-spammed jiaozi, yucks. And you guys really made me feel quite terrible at myself, but what's there to be done? It's not entirely my fault for things being like this you know. Eileen, qi and  talked, most about weird stuff that we always do, hahah.
Went to marina square, and while waiting or the movie, we (kaiyi, chenee, charmaine, kimberly, eileen, serqi) did all kinds of weird actions with our hands to kill time, until we became bored enough to stop and go to the arcade.
Oh and then serqi laughed until she cried at a sight that was so hilarious I'm not going to type it out, hahahaha. Damn funny, spam smiley faces! xDDDDDDDDDDDDDDDDDDDDDDDDDDDDDDDDDD
At the arcade, played FAKE bishy bashy, saving money perhaps? Haha bishy bashy is always fun. Oh and then qi and I went to play parapara, I told you it was a good idea! Hees loved it. Shall go play more some other day. But no thanks to the o.o at everyone who became spectators lol.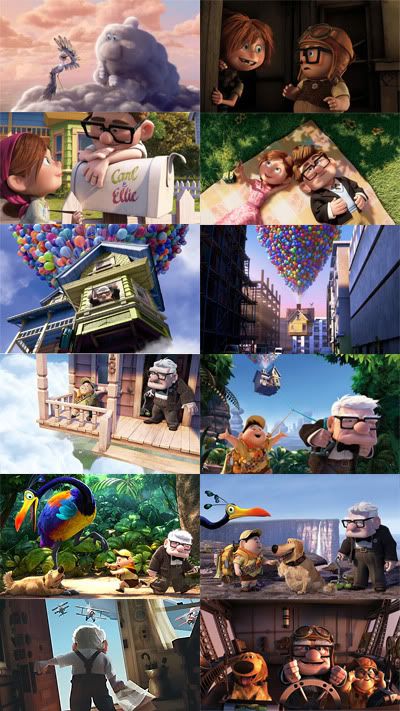 And then we watched UP, which was a really cool movie. Bad logic in the movie- how in the world did a 78-year-old become so strong??? But the movie in itself was really carried off every nicely, plus the cute funny scenes that made the theatre laugh really loudy I thought it was abnormal. Qi and I squee-ed at all the cute stuff, which made eileen go O.O haha.
(SPOILERS) But all in all, I loved the sentimental parts of the movie, the no link starting when the bird came back with the helmet and stuff, how the carl was so protective over the mailbox, the fastforward-ed life of ellie and carl, when the stupid guy set the house on fire, the boy scout recount of his father and him "red cars and blue cars". (ENDSPOILERS)
Well and now I should start on the SIP which we were supposed to do yesterday, bah!